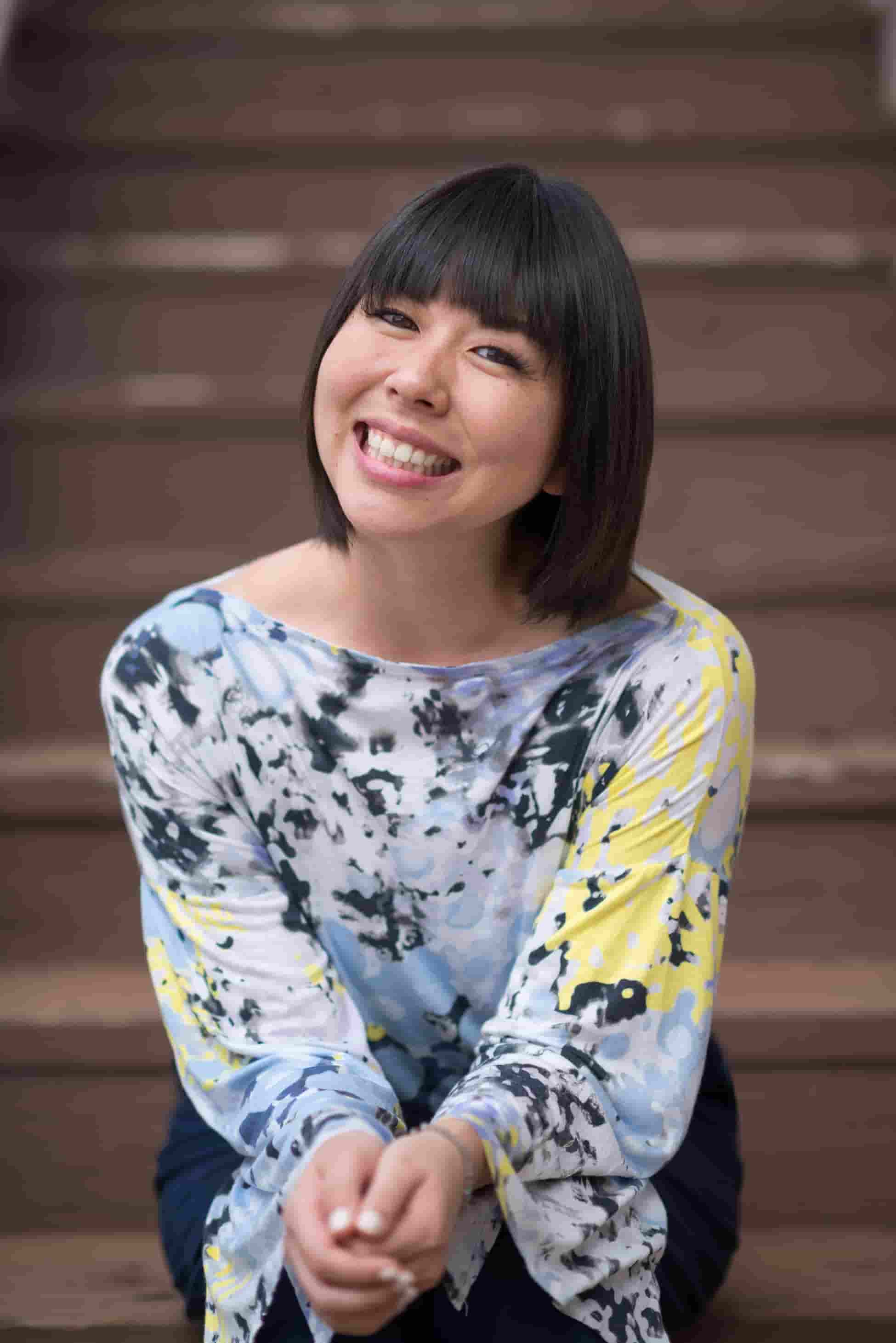 Designer Summer Shiigi was born under a lucky star.
Summer Shiigi was born under a lucky star. She is a ball of light and positivity. Summer has been named one of the "40 Under 40 Class of 2017" by Pacific Business News, has been a lead designer for the Goodwill Goes GLAM! charity event that raised a quarter of a million dollars for the global non-profit and her colorful fashion designs are sold in Nordstrom Department Store.
 How did you begin your fashion label Ten Tomorrow?

I never really know how to talk about this but honestly, I started Ten Tomorrow as a question mark, as a hobby, as an interest. If you asked me in 2013 when I launched my first collection, "Do you believe in this?" I think I would've said "Maybe?"
That's why even though this is my fifth year I still feel so brand new because it wasn't until we opened our first brick and mortar store a few years ago that I really started to believe in Ten Tomorrow.

I made a conscious decision then to tell myself I was going to make it. And before then I think I was just floating by and that's why I had no organization, no nothing, because I was just - winging it. I didn't have any expectations of success or failure.

But then something flipped, and it was like you are either in or you're out. Ward Warehouse Shopping Center is putting your name on a wall. It is building Ten Tomorrow a home. This is the real deal.

I started working with a business coach and she kind of woke me up by saying it's your fifth year. You keep calling your business a baby but it's not a baby. She said, "A five-year-old business is like a toddler. A five-year-old is walking. A five-year-old could take off running if you encouraged it and gave it everything it needed. But a toddler can also hit a wall. A toddler can hurt itself if you're not watching carefully enough. So, it's all in or all out because your toddler's ready to go." And she really pushed me to believe that I could take off running.
 If you could give your 25-year-old self advice, what would you tell her?

To be more organized. I know that sounds so cliché, but I think I'm someone who just goes based off feeling and faith, and sometimes it's naïve or blind. I've been very blessed so far, and I've worked really hard, but I really haven't organized goals or budgets or thought about growth or anything until recently. If I had more direction when I was younger, I think I could have reached things faster.
 Where did your confidence in yourself to launch a fashion brand come from?

I had a strong entrepreneurial mom growing up. She worked from home. She was a self-employed CPA, so I grew up watching her work hard and run a business out of our house. I had two parents who from a very young age, allowed my siblings and I to grow at our own pace, do the things that we wanted to, and have the freedom to fail. We grew up in a very loving and supportive environment which added to my confidence. My Mom says I was born under a lucky star and I think I've just believed that.

To me, confidence means trusting yourself, that you're doing the best that you can, and that's all you can do. I have zero regret and zero fear about what's happening, because I know that I am doing all that I can do. I'm doing all that I can do for my customers, for my team, and for myself.

If I do have moments of doubt, it's less of a confidence thing, and more of a reflective, introspective thought. Like, are you doing the best that you can? Are you proud of what you're doing?

I have to say yes. This is it. I'm maxing out.

My confidence also goes back to my team. Everything I do, I try to do together as a team. So I think even building confidence, we do it as a team. We're all here to support each other.
What is a daily, weekly or monthly routine you do to manage stress and provide yourself with self-care?

I work out really hard but it's also like torture. I have friends that have their own gym and are intense crossfitters. They motivate me and I run, I do stairs and I work out hard for at least an hour three times a week. I also love noodles and food so this helps to balance all the food I love to eat when I'm stressed.

My boyfriend, Chad, helps a lot with my self-care. I've noticed he's good at sensing what I need. When I get home he can tell if I've had a tough day and he's able to make me laugh till I cry in a second's time. He gets me to just forget about the day. If I need the noodles, or the popcorn, or the Netflix, or just a joke to make me laugh, or even just the space, he respects that. Especially in retail, sometimes a long day of customer service can just drain your energy. I think I'm an introvert in that way, being around people drains my energy. When I need to recharge, he also gives me the space to do so.

I'm also a proud crazy cat lady. I have two kitties that help me stay sane and happy. They both have very different personalities and show love in opposite ways but any attention from either of them makes my day.
Tell me about a time in your business where you failed and how did you move forward from the situation?

A big account I had taught me a good lesson. They had given me an amazing opportunity, being a larger retailer in the state of Hawaii, and I grew very quickly within their stores. The orders started as purely consignment and I started with small orders and then grew to big orders. Then they placed their largest consignment order yet which was exciting at the time but months later they returned about half the order that hadn't sold.

It was a really big hit, especially since I'd funded the cost of production. So I had to shift everything, rework numbers and get creative with marketing and how to re-sell these old products as new or somehow make it look new so I could push through all this excess inventory.

It pushed me to take care of myself, and to walk back in there and say, "I appreciate the opportunity, but can we move to wholesale?" To not be afraid to ask hard questions and say this isn't working for me anymore. That was definitely one of my bigger moments asserting myself, and standing up for myself.
The funny thing was once I stood up and shared these concerns the retailer was so supportive. They said, "Of course. You were supposed to move to wholesale a long time ago." Now we're purely wholesale, everything's manageable, production has gotten a lot easier and I can work everything into a systematized calendar.
 What is your favorite pair of Mohalas and how would you style them?

I like the Pikake in Guava Mimosa and I would style them with our black Ten Tomorrow Lola dress.  Shop Ten Tomorrow here.  
To receive our next Evolving Elegantly Blog and $10 off your first Mohala Eyewear purchase sign up for email updates here!