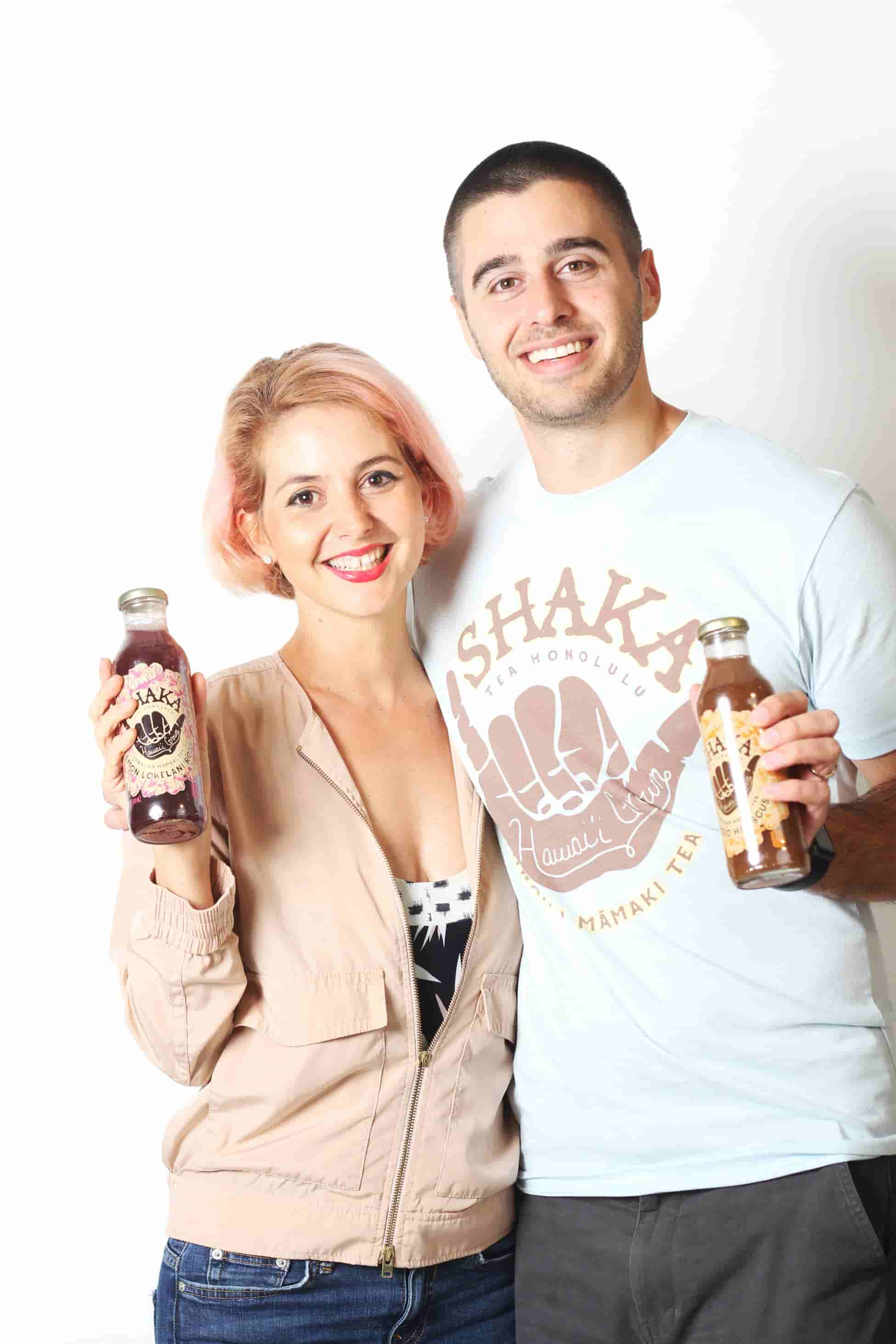 Entrepreneur Bella Hughes' one strategy to pitch angel investors or speak to crowds of thousands successfully.
Bella Hughes is off with a bang.

Named by Pacific Business News as one of the best and brightest youngest business leaders in Hawaii in their 40 Under 40 Class of 2018 and winning a spot in national retailer Burt's Bees' Natural Launchpad Cohort, Bella has the smarts and drive to disrupt the $20 billion ready-to-drink market with her company Shaka Tea.
Bella founded Shaka Tea with her husband Harrison and has achieved nationwide distribution at Walmart, Whole Foods and Foodland Super Markets in just two years.  
Tell me the story of Shaka Tea?

My husband and co-founder, Harrison Rice, and I had always wanted to start businesses. This is actually our second business together. We lived in the Middle East and have traveled extensively for work and were always amazed to see Hawaii branded products everywhere we went. In places you'd never expect like Armenia, Irbil Iraq, or East Berlin. 95% of the time nothing about the product was actually from Hawaii. We recognized that there was tremendous branding power internationally in a Hawaii product. We wanted to tap into that in a way that was authentic and would benefit my home, our community and economy through Hawaiian agriculture.

We have always been very focused on our 'triple bottom line,' which is creating a brand that is good for the 'āina (land), good for our bodies and good for our community. Building a healthy product was very important to us especially because we have two kids and wanted something they could consume too!

We are tea lovers and when we looked at the ready to drink tea market the choices were a) really plain flavors with no sugar or b) flavorful teas with 20-40 grams of sugar. You might as well have a soda with that amount of sugar. We had been drinking a ton of māmaki tea while we were living abroad in the United Arab Emirates. Māmaki tea is naturally caffeine free and was perfect during my pregnancies, both our kids were born in Dubai.

We saw a niche market opportunity in the ready to drink tea market to create a caffeine free, sugar free, Hawaii branded tea that was delicious, good for you and good for Hawaii. We started putting together elevated flavor profiles that were tropical botanical. Capturing scent was really important to us, so when you open a bottle of Shaka Tea, like the Pineapple Mint or Mango Hibiscus, those scents smell like home (Hawaii). For me, Guava Gingerblossom smells like a lei.

Hawaii has gone from pre-contact agriculture to large-scale industrial agriculture. There aren't a lot of high value crops that are extremely pest resistant and have a high economic value. And so, that's where māmaki comes in. It's an endemic plant, so that means it's only found and grown in Hawaii. It doesn't have too many pests. It's relatively easy to grow. And, of course, being a lā'au lapa'au plant, it has tremendous cultural significance.

Every time you plant māmaki, it's an act of conservation. You're creating habitats for pulelehua, our state insect, also known as the Kamehameha butterfly. And that's supporting pollinator habitats. Planting māmaki is holistic and beautiful. All of our māmaki tea is grown and dried here in Hawaii, actually all sourced from Hawai'i Island, where we now live and work.
You have had to successfully pitch to angel investors and do a lot of public speaking pitches. How do find confidence in those moments to give persuasive, impactful speeches?

For a decade I was very active in public speaking as a curator and moderator in the arts and culture sector. When I started pitching to investors it fortunately wasn't a challenge because of all my previous public speaking experience. I do remember the very first time I spoke publicly in the arts and culture field and how nervous I was! But then I had to get used to it and be comfortable speaking to 1000 people because that was part of my job.

It really just takes a lot of practice and getting out there and doing it. Becoming comfortable and realizing whether I'm on stage or at an intimate dinner party, I'm just telling my story. That's all I can do. I cannot pretend to be anyone else but me. I have a high-pitched voice and speak incredibly quickly. I have been advised numerous times to slow down or lower my pitch. But, when I'm myself that's when I do my best speaking. Even if I'm in front of a large crowd I just pretend like I am at a comfortable dinner party telling my story. I don't really have a professional face or personal face. What's professional is personal, what's personal is professional.
How do you manage caring for a 3 year old and a 5 year old, running a household and pioneering a startup business?
My days are broken into focus areas. I identify what day should be focused on what task. One of the biggest things we are working on right now is growing out our māmaki supply chain and supporting that economic growth and connecting with farmers. So I will plan to spend four hours, two times a week, working on that project to ensure it gets done.
My general work flow schedule is I go to be bed around 7:00-7:30 pm with my kids. I wake up between 3:00 or 4:00 am to pump out a bunch of hard work before the kids get up. A lot of mothers I know, and even mothers who aren't entrepreneurs, get a big bulk period of work done before their kids are up and talking. Then when the kids wake up, my husband and I get them ready and take them to school. I work until about 2:30 pm when they're out of school.
I take a nap every day religiously. Very religiously. My husband and I are very serious about naps. Winston Churchill split his day into twos with a nap. I do a 30-minute power nap every day right before we go to get the kids from school. Afterwards I'm in mom zone with homework, housework, and hanging out with the kids. We have dinner, read stories and then the kids and I go to bed around 7:30 pm.
There are certain nights that I wake up around 11:00 pm and after a good hour of trying to sleep I can't fall back asleep. I'll say, "You know, let's just not lie here. Let's be productive." And I'll get up and work a few hours. But then, I'll be more kind to myself the next day and maybe take a two-hour nap.
Tell me about a time in your business when you failed and how you moved forward from the situation?

The first product that we launched was definitely for a micro-group. It didn't have mass appeal. It was very, very in the natural, organic co-op kind of market. I loved the flavor of the first product, but I don't think it was a flavor palate that had mass appeal. And, if our goal is to share Shaka Tea with as many people as possible then that initial product was just too niched.

So, we reformulated new flavors that were instantly more widely accessible and consumable. And we were still able to keep our core audience. Now we can connect with someone who regularly drinks a soda AND with a strictly natural consumer.

The branding was also a learning process. Originally, we did a black label. We were like, "Black. This is so sexy and cool. Nobody's doing black in beverage." However, we found with a black label, after a few bottles sell and the rest of the black bottles are at the back of the shelf they got lost and were not easy for customers to see.

So, our rebranded and reformulated product relaunched this year. And there's been such a better response. Now it's in a clear glass bottle so you can see the vibrant color of the tea on the shelf. We worked with McClean Design and they did a great job. The color really pops, and the bottle is beautiful.


The 2018 household is a new territory how do you and your husband balance work, childcare and the household?

I'm really lucky. Actually, I think this should be the norm. I hope in 25 years my daughter would never say she's lucky (if her husband shares equally in the household), because what we have becomes the norm.

My husband and I split the household and child raising equally. I think that's the ultimate feminist statement. I actually do probably 70% of the traveling for Shaka Tea. I'm the President, he's the CEO. Since the brand started out of my passion for Hawaii (Harrison is from Seattle and we met at Boston University 12 years ago) and pitching and publicity are more my background, I'm the one who is out there and the face of our brand. As CEO, he's running the day to day operations of our business which is pretty multifaceted and complex. He is formulating in-house all of our flavors and managing over three dozen suppliers and key relationships that make Shaka Tea happen. He also does an amazing job taking care of our two kids when I'm traveling!

We've got into a great groove of splitting things equally. So, he's the one doing the daily cleaning of the kitchen. I'm the one who does more like the weekly scrubs of the bathroom, the weekly big vacuum, and so forth. And, we split cooking pretty equally. We've both always loved grocery stores, so we split grocery shopping.

Harrison still does quite a bit of corporate consulting with the Middle East. And, I think it's an important story to tell, because so many entrepreneurs I know when they founded their company themselves without family resources, have side hustles.

Nobody ever really talks about, but many entrepreneurs do quiet side hustle gigs for quite a few years because you obviously want to take as little as possible from your company in the early stages. You hire and pay your employees so you can grow out your team to be successful and put every penny back in the business.

But people don't talk about this. It's like you're supposed to magically be successful from day one. There are very few businesses (the unicorn!) that you'd be able to pay yourself livable wages within the first year or from day one.
How do you balance your drive and passion for your business with a healthy marriage?

I think Harrison and I have always been people that were meant to create things together. We get a great deal of pleasure out of creating things, whether we're throwing a party for 40 people or building Shaka Tea. A big part of our identity personally and professionally is in the form of creation.

I know that's definitely not for everybody. But, that's our kuleana (responsibility in Hawaiian) to each other, just to do that. That makes us happy. I think we're a lot more unified now and happier personally now that we're working together. We both are so passionate about what we do.

We feel so privileged to be based back in Hawai'i and to be able to pursue our dreams without the struggles our friends, who come from regions of conflict or the developing world, have had to overcome. We ask ourselves how can we be the most productive and how can we help the most in our community? And, hopefully what we do in some way will have a larger impact on the world.
What are your favorite pair of Mohala sunglasses?

I love the Lina in Pink Torch Ginger. Torch Ginger is one of my favorite flowers and I love bright colors.

I dress to the occasion and the objective. I'm very strategic with fashion. I just came from the Expo East and I bought myself and my Marketing Director, I kid you not, rainbow matching faux fur coats. Because when you're in the midst of a ton of people and you're a 5'4" brunette you just do not stick out.

I always use clothing as a vehicle for my objective. So if I'm going to a very crowded trade show with national buyers walking through I dress really bright and really colorful. I also just bought these really cool sequined fanny packs. Because what is the number one thing you do at an event? You're pulling out your business card. Perfect! Sequined fanny packs!


Shaka Tea is available online at www.amazon.com and in Hawaii at Foodland Super Markets. For more locations nationwide visit: www.shakatea.com
To receive our next Evolving Elegantly Blog and $10 off your first Mohala Eyewear purchase sign up for email updates here!