Article: Female entrepreneur utopia found at Lan Chung's home!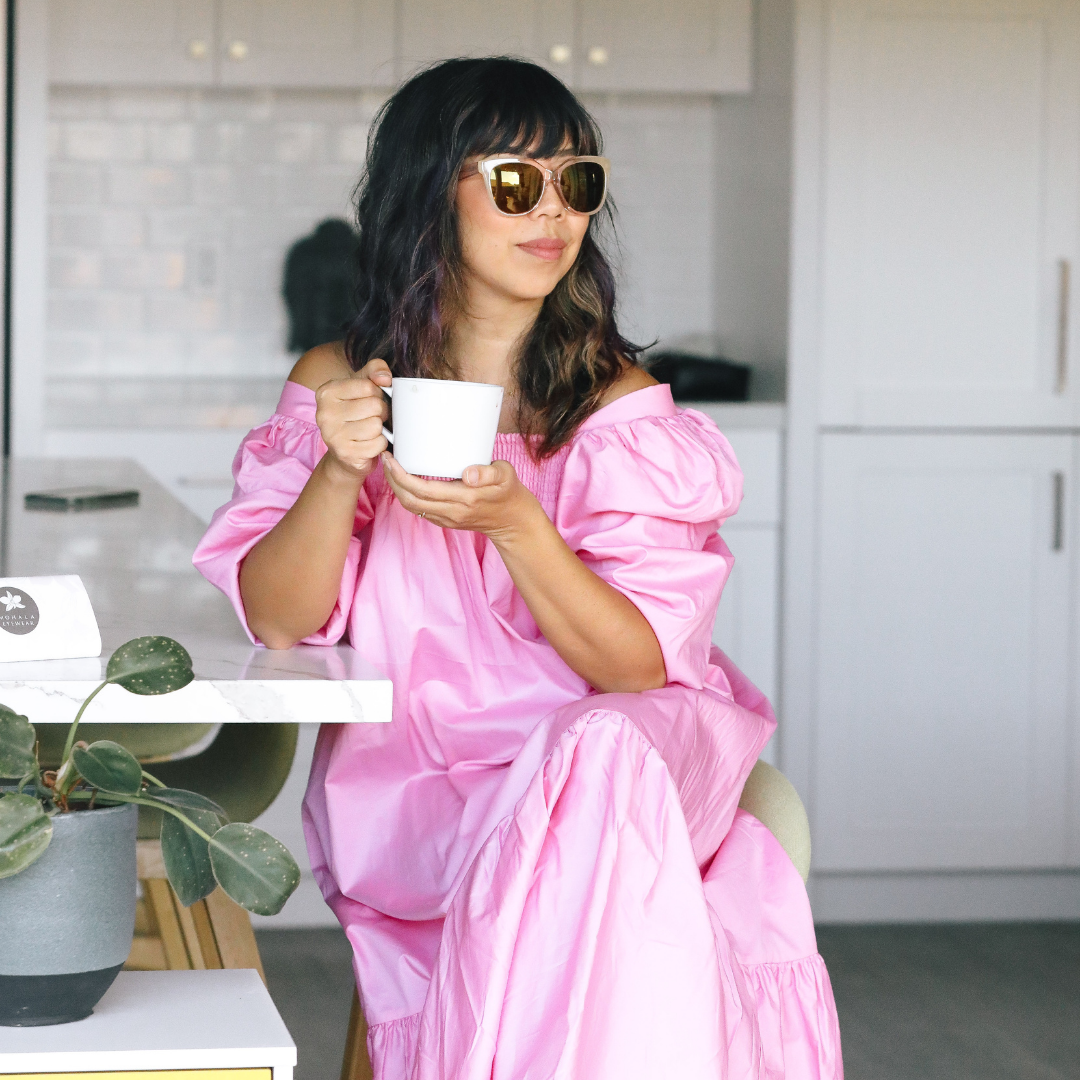 Female entrepreneur utopia found at Lan Chung's home!
When I visited Lan Chung, co-founder of Fighting Eel, in her warm and impeccably styled home (a mix of tropical Pegge Hopper meets Parisian salon) I felt like I walked into female entrepreneur utopia.
Lan has a thriving Hawaii fashion line with three boutiques, 40+ employees, a cult following and A-list celebrity fans like Eva Longoria, Rachel McAdams, Mariah Carey and Paris Hilton. Plus a beautiful marriage, close relationship with her kids, the BEST wardrobe, and she is in amazing shape!  I had so many questions for this woman who has built this beautiful life for herself from scratch.  What are her secrets?  And here are the answers. . . 
How did Fighting Eel come to life?  
We started our business in 2003 in our home, Rona and I used to live together. So for about 2-3 years, the inventory was in our house and we were only selling locally, cutting everything and sewing them ourselves. Then we had our first production and thought it was brilliant to cut and sew first because we were so confident the collection was going to sell out! Hahaha what I joke that was. No store owner or buyer responded to us or wanted to see our line. We didn't get into the LA show we thought we were going to. So we're left with all this inventory we had to sell-off. But that's when we started to do trunk shows and sample sales, here and on the mainland.
Anyway, long story. But the magic didn't really happen for us till we got a showroom in LA and NY. I know things are different now, but that's the best thing we ever did, getting a sales rep to sell our line. Our line quickly took off after, and we were in almost 200 boutiques and department stores at one point. 
Our first employee is still with us. She is our business manager. We opened our first warehouse space in 2006 on Hotel St., almost 1800 sq. ft on top of Live Stock Tavern. Initially, it was just for wholesaling, but eventually, we opened to the public (selling leftover or discounted inventory) for one day, and then 2 days, and then 3, till we were opened for 5 days. We started hiring more girls, with Kerrie Inouye (our current District Manager) being our next employee. and then added on a few more girls to the warehouse space.
2008 came and the market crashed. We started to have a hard time collecting payments from stores, boutiques were closing, payments were late. This is when we decided to open our own shop. In 2010, we opened our first store and ended our wholesale business for good. We had such a huge following at that point we no longer felt the need to wholesale. We just wanted to concentrate on our local loyal customers and started opening a store every year after that. We have 3 stores, and I'll say that's as good as it gets! We'll see what happens in the future...
How do I self-care?
I work out about 4-5 days a week following Chloe Ting. I feel like I can follow along with Chloe because it's nothing too intense, I just find she has all these great short workouts that you can easily do like a 12 minute HIIT, or a 10 min abs, or 10 min no weight arm exercise. But most importantly it is to get my body moving and being in a routine to keep active. Now that I'm in the rhythm and am officially committed, I feel guilty when I don't work out at least 3 days a week. I think that has been the success, to find something doable for me.
I have been enjoying reading again during the pandemic, and yes, I go to the public library to borrow my books. I'm not a Kindle reader, I like to touch and feel the pages of the book. 
What is your favorite Fighting Eel or Ava Sky piece?
My favorite Ava Sky piece at the moment is Dress Anaha. She's just so lovely, she's a throw-on kinda dress, but you immediately look put together if you know what I mean. It can seem dressy, but I usually throw mine with a pair of rubber slippers.
Where does your confidence come from?   
I am not sure I'm super confident, actually, I'm super shy and I hate public speaking. But I think I just know what I like and what I want, and I know that anything is possible. I don't wait, I go and get it! I just feel comfortable and happy with myself mostly, I have nothing to complain about.
What was a challenging time in Fighting Eel's journey and how did you move through it?
In 2008, I think it was challenging for us as we were a wholesaler and the market crashed. Vendors stopped paying us, or they went into bankruptcy, stores were closing. We were losing a lot of accounts. It was a struggle to get paid, I even went into a store once in Beverly Hills (she carried our line) and told her she needs to either give our products back or pay us. I think I may have called her a thief!  Anyway, we re-evaluated our business and our goals. That is when we noticed what a huge local market and following we had. We said why not concentrate on them, and not have to stress out about manufacturing and producing 6 months ahead of schedule for our wholesale business. So we planned and opened our first store in Downtown on Bethel St. in 2010. We eventually shut down wholesale all together and here we are today with 3 stores (previously 4 the Waikiki store closed during the pandemic).
What is something you wish you knew when you started Fighting Eel that would've helped you in the early stages?  
Hmmm, I think everything that I went through was a learning experience and all the mistakes I've ever made, made me or us into what we are today. I didn't know a lot of things when I first started the business. You never know what happens with this fashion business, it's always changing and there is always competition, but you have to be able to adapt. The one thing, I just learned though is to get a lease lawyer to review your lease. That way, you are protected somewhat when something like COVID happens.
What is your best tip for having a healthy marriage, healthy relationships with your children and being a successful female entrepreneur?  
To be honest and be yourself! Follow your heart, listen and be present. And make sure you can boss your husband around, that he adores you and will do anything for you. Haha! And for the kids, make sure there is a good line of communication and that you are always present with them, and that you teach them to be good humans. In order to be a successful entrepreneur- do what makes you happy and feels right. If you believe in your product, others will too! Don't worry about what others are doing, just focus on your own business!